NCSA Mosaic for the Macintosh User Guide: Customizing
---




To personalize your copy of NCSA Mosaic, select Preferences... from the Options menu. In the Preferences dialog box you can change your home page and add your user name and email address.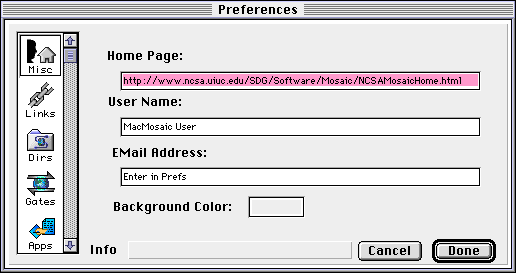 In the Home Page: field, enter the complete URL for the home page of your choice. You can create your own home page on your hard drive if you want. (See "Creating a Local Home Page" on page 4-1.)
In the User Name: field, enter your name and in the EMail Address: field, enter your Internet email address. (The User Name: information is used when you annotate documents and send mail.)
Click on Apply to dismiss the dialog box and save your changes. Click Cancel to cancel the changes.
---




mosaic-m@ncsa.uiuc.edu
---